Amuse Bouche (The Idea)
My interest in natural wine came about as I noticed a shift in our industry toward lower alcohol, food friendly and low intervention wine.  When I decided to start Breaking Bread, it was very important to me, artistically, to build something completely different than my first conception, Kokomo. I wanted to be challenged in my craft as a winemaker and I also wanted to understand fermentation from a different perspective that could possibly play a part in future Kokomo vintages.
Appetizer (The Start)
In searching out vineyards for Breaking Bread, it was imperative to find vines with age and that are dry farmed, because the goal is to have physiological ripeness come at lower sugar levels. With older vines, we can achieve lower alcohol content by picking earlier but still have great complexity. I also know that the focus of this brand had to be Zinfandel. As a California winemaker, I believe that there is no grape more special than Zinfandel. Old heritage Zinfandel vines that have been in the ground for over 100 years are unique to our region and have such a storied past. They embody the historical roots of natural wines. Unfortunately, this varietal has had a poor reputation for being over alcoholic, slightly sweet and a jammy mess of fruit. White Zinfandel did not help our cause. We wanted to give California Zinfandel a new and fresh face.
Salad (The Approach)
Wine is a natural product in the first place. I think our craft got diluted with the advancement of technology and science. Additives and commercial yeast became commonplace, and people began building wines to certain specifications, at times in complete disregard of terroir or the grapes themselves.
As a novice winemaker, I relied on commercial yeast as a security blanket to make sure that the wine went fully through fermentation. I had heard a lot about native yeast but was hesitant to gamble with our fruit because I was not confident that the native yeast would have an alcohol tolerance high enough to get me through fermentation cleanly. When I did finally experiment with native yeast, I was surprised at not only how effective they are but how the unique character of the vineyard shines through the fermentation process for a less adulterated expression of terroir. I came to realize that adding anything to fermentation takes away from the wine. Our goal is to have a very hands-off approach that highlights the purity of fruit and the deliciousness of a lighter bodied red wine.
Main Course (The Wines)
The style of our red wines is defined by a flavor profile that is synonymous with carbonic maceration, or whole cluster fermentation. In part this is because by keeping the grapes in their complete natural form as they come off the vine, with no destemming, the stem becomes part of the fermentation process and final product. As it turns out, the stem adds a piece of chemistry that is needed for balance in these wines because we pick the fruit less ripe, with lower sugar, so it has lower alcohol but higher acidity. The stems help balance out that acidity by bringing potassium (which is a base) into the mix.
After releasing our first vintage of Breaking Bread wines in 2018, I was ready for a new adventure and set my sights on creating our 2019 Dry Creek Valley Zinfandel Pet Nat. I secured as many Pet Nats as I could find in the market, tried the different varietals and styles available and formed my approach to making a Pet Nat. First and foremost, I wanted to highlight the renowned Dry Creek Valley Zinfandel. Dry Creek Valley is my home base, and having worked with Zinfandel for many years, I was able to play with it in an entirely new way. I never imagined picking this grape at 19 brix. With an already high acid varietal like Zinfandel, I needed to be careful to maintain balance. Another goal with our Pet Nat was to make our first truly zero zero wine. We were successful on both fronts. Our 100% Zinfandel Sparkling Pet Nat is a highlight in the Breaking Bread offering.
Dessert (The Future)
Creating Breaking Bread has informed my approach to winemaking. I have the technical foundation and confidence of someone who has been making wine successfully for nearly two decades, and the curiosity and inspiration to make high quality, delicious natural wines – and this is just the beginning!
-Erik Miller, Owner/Winemaker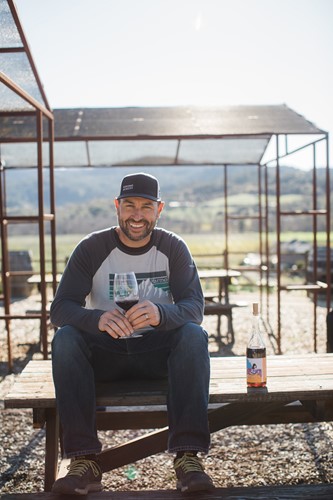 To engage in a comfortable, friendly interaction where something is shared.

BREAKING BREAD: /brāk-iNG/ /bred/
Absolutely Delicious
These wines are a perfect pairing for a lunchtime meal, or to enjoy slightly chilled on a humid summer evening.